I remember my grandmother. My mother's mom was 4'11" tall, weighing probably around 250 lbs. with short-gray-blue hair and a great smile.  Cotton dresses,  embroidered aprons. I don't know if she even knew how to drive a car. I do know she did crochet and embroidery, and I think she even tatted (it's a hand-made lace thing…).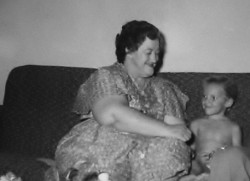 Funny, I always picture her in her kitchen. She made cakes and cookies from scratch. And of course, the kitchen was vintage 1940 – metal cabinets, big country sink, huge gas stove, and I remember the smell of….wait for it….tamale pie. Yes, she made a thing she called a tamale pie in a cast iron skillet, with cornmeal and ground beef and tomatoes and whole corn, that I never could duplicate. It would be great this time of year, on one of these icy, snowbound days.
I've found recipes, but they just aren't the same. Maybe it's not the recipe that I really miss.
Fast Forward….
I'm a grandmother now. In fact, I'm a great-grandmother now. I'm short and plump, but not nearly as heavy as grandma, and as long as they have color-in-a-bottle, I'm still dark blonde. I drive an SUV, have a full time job, go to the gym as often as I can, and have many different hobbies. I haven't worn a dress but a couple times in the last five years. Jeans, slacks, and yoga pants are the mainstays of my wardrobe.
And I DON'T cook. Honestly. I made cakes from cake mixes years ago, but now I just buy them. My kitchen counters are used to pile books and things on. My oven's been broken for two years, and I'm not inclined to fix it. I have a can opener and a microwave. These things see me through just fine.
I know I'm in much better shape – I'm physically active, and run around with my kids, grandkids, and great-grandchild and we do 'projects' together.
But are they missing out by not having one of those old-fashioned grandmothers who made cakes and tamale pies, and smelled like lilac and vanilla? Will their memories of me be just as sweet?