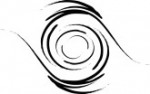 Welcome to my blog.  Alice followed the White Rabbit down the rabbit hole, "never once considering how in the world she was to get out again."  That pretty much sums up my plunge into creating a blog.  In the past few years, I listened to all those people at writers' conferences tell me I needed a blog, a Facebook page, a Twitter account, and numerous other things in order to 1) establish an on-line presence and 2) stay in touch.  Well, I manage to stay in touch with my friends and family without those things, but maybe not so much with the rest of the world.  And you are bound to be there.
So, I've jumped straight down the rabbit hole.  I checked out other bloggers to see who hosted their blogs.  I asked advice of those bloggers.  I paid attention to what bloggers on blogging blogged (yikes!) and what those speakers told me.  I kept all the handouts and pored over them for more information, checked out the recommended sites and posts and found some of my own.  You know, I feel like I haven't even scratched the surface!  But I'll start it, and with a little bit of luck it will grow as I learn.
Don't be surprised if the look changes now and then as I discover how to do things.  Experimenting is part of the whole adventure…and if I can't make an adventure out of it, then what's the point?  I'll be glad to entertain suggestions and advice, but  I'm still learning the jargon, so if you tell me something in tech-speak, I may not respond or take your advice.  It's not that I don't want to.  It's just that I may not understand what you are talking about.
You can look forward to (at least, I hope you are looking forward to it) rambling comments on exploring the world of becoming a writer as well as things in this world that  deserve celebration or just plain confuse, confound, or confront me.  I will share discoveries, disappointments, disillusions, and then, because I couldn't think of another D-word, opinions on it all.
"Begin at the beginning," the King said gravely, "and go on till you come to the end: then stop." – Lewis Carroll, Alice's Adventures in Wonderland. 
Hopefully, we won't stop for a long time.