As Bo and I wander around the state on weekends, things just seem to happen…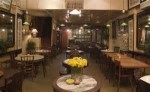 Last Saturday, we were in a small town in Northern Arkansas and stopped for lunch at a Mom-and-Pop-type diner.  When we went in we noticed a help-wanted sign, and wisecracked about going to work up there and getting out of the rat race.  We were seated, and a harried waitress came back to clean the table a bit more.
"No problem," we said. "It's hard to keep up when you're short-handed."
She nodded and continued to flit from table to table, with a second girl running in and out of the kitchen – serving and checking customers out at the register. A bit later the second waitress came to the register again, and as more people came in the door she gave them an apologetic shrug and said, "I'm sorry. We're closed," and turned off the OPEN sign hanging in the window.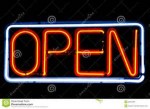 Strange. It was only a few minutes after noon.  She came to our table, and I asked if we got in just under the closing deadline. She shook her head and said no…
There was a meltdown in the kitchen and everybody, including the OWNERS, walked out, except her.  They said something like "I don't want to do this any more," and  took off their aprons and left.
Weird, huh?  That poor girl was trying to complete our orders (great job) and figure out what she should do.  We commiserated with that lone survivor, finished our lunch, paid our check (and tipped her) and left.
In the ensuing discussion, Bo said, "You know, this would be a good start for a story…" and by the time we were a few miles down the road, we had outlined about five possible tales to be woven from these circumstances. I'm still thinking about a couple more.
With things like this happening before our eyes, all the time, I'm amazed at people who say they can't think of anything to write.  Life is full of writers' prompts.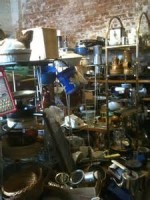 Remember the stupid beeping sound that I didn't locate for three days last January? A friend suggested it was a basis for a horror/mystery.  Still working on that one.  And we visited a ghost town last fall.  Creepy.  A great setting for a zombie apocalypse tale. We went through a flea market on that same trip -  well, it was more of a junk store. Let's just say there was more dust than items, but still it would have taken us a week to look at everything – piled into corners, stacked upon other things, junk inside of other junk…and each thing I picked up (or started to pick up…eww) had a story behind it.  Now, if you ever really can't think of anything, find one of these places. Inspiration guaranteed.
So, I'm just reminding you there are stories out there. You don't have to make them up, folks - they just happen. And I am waaay behind…