Now and then, while attending the Lucidity Poets' Retreat, I'm tempted to paraphrase that quotation, "…We're not in (Ar)Kansas any more…".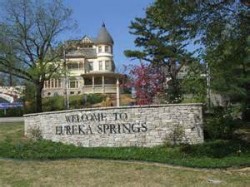 Indeed, late April in the Ozarks is a wonder – a natural sensory overload. Top that off with the mixture of characters that live and work in Eureka Springs, and it does get rather surreal. I feel like I've clicked the ruby slippers and been transported into some alternate world.  What better location to enable us to loosen our inhibitions and spawn great poetry?
At this session, I hope to get some feedback on a few things I've written that haven't gotten the desired result from contests and submissions. That's the whole point of this retreat. We get to pick each others' brains, and question our own ability, and improve, improve, improve our work. The 2-1/2 days is spent in highly concentrated critique/work sessions, as well as listening to advice from a few speakers and joining them in exercises aimed at unlocking our words.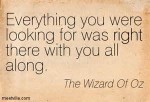 In addition, we get to hear what others are writing, to figure out who's tuned in to the same muse as we are, and to be inspired to challenge ourselves with heretofore ignored subjects.
I've spoken of this retreat and others before. I highly recommend that you find a couple each year to attend. You can find them everywhere, in brackets that will fit almost any budget.   Yes, there are few that combine vacations and writing (the best of both worlds) but then, if I'm writing, I'm on a mini-vacation no matter where I am.
Alas, Friday morning I'll click the slippers again, and be transported home. The possible downside/upside is that, upon return, my mind will still be very focused on poetry for a while, so future blogs (at least for a few weeks) will most likely feature that subject. For some, a small price to pay. For others -  I'll be back with prose soon. Or a combination thereof.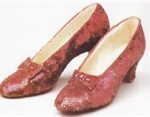 Footnote:   Frank Baum is said to have attributed the naming of the city of Oz to a drawer in his file cabinet, labeled O-Z.